Director of Tennis John Kratzke
Hidden Creek Welcomes John Kratzke, USPTR as Director of Tennis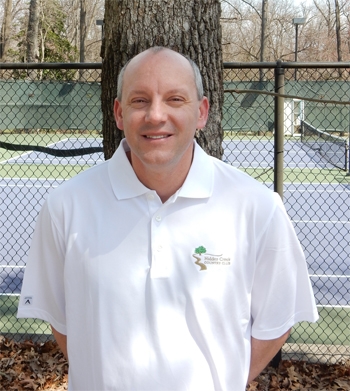 Hidden Creek Country Club is pleased to have well-known and highly regarded John Kratzke, USPTR lead our comprehensive tennis program as Director of Tennis. Teaching in Northern Virginia for the past 21 years, John worked with the most successful tennis professionals in the region at both Fairfax Racquet Club and 4 Star Tennis Academy. John gained experience as a tennis professional teaching players from complete beginners to NCAA Division I college players. John has taught 4 year-olds to 84 year-olds to enjoy the sport and spend more time on the court! He also developed a robust tennis program at Oakton Swim and Racquet Club during his 10 years as Tennis Director. In 2010, John became Tennis Director at Highlands Swim and Tennis Club.

John's background in biomechanics and sports physiology is vital to many of his students who love tennis, but incur injuries as they age! John graduated cum laude from William and Mary in 1996. He received a BS in Chemistry and a minor in Biology with a focus on sports physiology. John competed in Mid-Atlantic and national tournaments as a junior before playing on the college varsity tennis team from 1992-93. He continues to compete today as a USTA 5.0 level player and a nationally-ranked 35 years of age and over singles and doubles competitor.

John lives in Vienna with his wife Elisha, their son Sean and their two dogs. John volunteers as Vice President of NVTL – Juniors Division. John assists NVTL in their vision to bring more tennis opportunities to junior and adult tennis players in Northern Virginia.
For information on Tennis programs or instruction, please call John Kratzke at 571.246.1926 (cell)